By GoldenWest Management
Are you interested in investing in the San Diego Rental Market? If so, you've come to the right place!
In this article, we will offer you up to date information regarding what's happening in the SD Rental Market including accurate data and what we can expect for the rest of the year.
Average Rent
As of March 2018, the average rent for the San Diego rental market is $2,028, this is an increase of 3% compared to the same time last year when the average rent was just $1,963. (Source – Rentcafe.com)
Rent Breakdown
Anyone who is searching for a rental property in the San Diego area can expect to pay the following rents:
Studio Apartment (455 Sq. Ft) – Average: $1,479 per month
One-bedroom apartment (671 Sq. Ft) – Average: $1,793 per month
Two-bedroom apartment (966 Sq. Ft) – Average: $2,190 per month
Three-bedroom apartment (1,294 Sq. Ft) – Average: $2,773 per month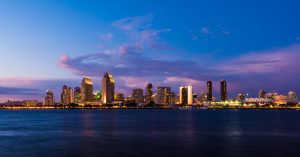 Rent Increases Have Slowed – Slightly
There's no doubt that rents in the San Diego area have been increasing steadily over the years but since the start of 2018, they have slowed, slightly.
This slowing could be due to more rentals coming to the market like the opening of the new "The Rey" apartment complex in San Diego. This complex has brought close to 500 new rentals to the market.
Located at 801 A Street in San Diego, The Rey apartments with high end designs, luxurious floor plans and lots of amenities. Learn more about this apartment complex by visiting their website at https://www.berkshirecommunities.com.
Slowing rent increases could also relate to the winter months. Either way, industry analysts don't expect the rent growth slowdown to last for long as San Diego continues to rank among the top cities in the United States for rent growth.
Most Expensive to Least Expensive Rents
As in years past, the most expensive place to rent in the area are Downtown San Diego (Average – $2,49 per month), North County (Average – $2,126 per month) while the least expensive place to rent in the San Diego area continues to be East County (Average – $1,418 per month).
Get Property Management Here
For property management in the San Diego area contact GoldenWest Management today by calling us at (866) 545-5303 or click here to connect with us online.
GoldenWest Management
Investment Property Solutions
CA LIC# 071791904